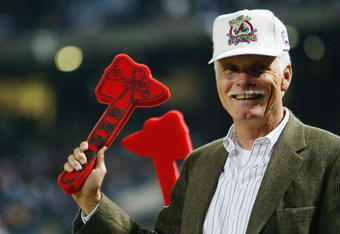 I had the pleasure of going to all three Braves games at Yankee Stadium. Two Atlanta wins and I have some thoughts to share about my experience.
Monday
CC Sabathia is a bad mamba jamba. He dominates without you even thinking he's dominating. The Braves seemed to be seeing the ball well out of his hand and taking aggressive swings and yet by the end of the game he had 10 strikeouts and a complete game. He's at the point in his career where he can coast to an ERA around 3 and almost 20 wins while saving gas for the playoffs when he really steps his game up.
Sitting in the bleachers during the first inning, a group of people one section seemed to stand up in awe as someone descended down the stairs. It could only be one thing: a random celebrity sighting. Cedric the Entertainer!!!!! His shape can best be described as human chode, and his humor can best be described as painfully bad, but he's still a motherfucking King of Comedy. Why he was in the bleachers was unclear. Is he a Cardinals fan after working with Nelly on the interludes to Country Grammar? A Yankees fan? Or a Braves fan as this picture suggests? We'll never know, but I do know this Ced: you had a dope top hat.
Keeping score at the game is still as much fun as it was when I was a kid. As a throwback night, we did it and enjoyed every minute of it.
When Yankees fans use the fact that they've won 27 championships in an argument you know they are either a) losing the argument or b) dumb as shit. Congrats on winning five championships in the '30s. I'm sure that was a big day for you.
There's a lot of fucking luck in baseball. Yankee captain Derek Jeter got 3 RBIs and didn't hit the ball in the air out of the infield. Two grounded singles, one with the bases loaded that gave the Yankees the lead, could have easily been outs, but things worked out in the Yankees' favor tonight.
Yankees fans (that is the ones who stuck around), I'm proud of you for remembering to stand with two outs and two strikes in the ninth. It's not like your ace was pitching a complete game or anything.
Tuesday
I'm proud to say that somehow, by the miracle of miracles, I was able to avoid hearing about the Heat-Thunder game and watched it on DVR when I came home. I feel like a hero, but that word probably isn't strong enough.
The Yankees have some scary fucking hitters. Watching Tim Hudson, a typically aggressive pitcher, nibble his way through the Yankees' lineup to the tune of five walks gave me some sympathy for Dice-K and all the other great nibblers of the AL East. The Yankees' powerful lineup coupled with the fact that right field is practically breathing on the pitchers' necks would scare the shit out of anyone.
Jason Heyward is a bad bad man. His average might not be where he wants it and he hasn't gotten back to the .380 OBP he posted as a 20 year old rookie, but damn he can play. He preserved the Braves' lead by throwing out a runner at home and hustled for a triple when Granderson took a half second too long to pick the ball up. He also consistently makes pitchers work hard to get him out. His speed and defense have improved since he came into the league so that even when his hitting is off, he helps the team win.
Craig Kimbrel should have to pitch from 65 feet. He came in with a one run lead but it felt like four. The Yankees had no chance. He came in throwing 98 and threw his slider for strikes in any count. He's the best closer in the game bar none.
Lady luck evened out for the Braves a little on Tuesday. They threw two Yankees out at the plate, thwarting big innings and keeping the lead. It does stand to mention, though, that it is clear how a team like Tampa has a chance against the Yankees. The Yankees don't do a good job of executing the little things like defensive hustle plays, relays, and baserunning. They aren't quite as bad as Yankees of recent years who could only outslug you, but it's one of their few weaknesses.
Don't get the cheese fries. You will throw up. Fact.
Wednesday
The series began with a video tribute to Chipper Jones as Andruw Jones and Derek Jeter presented him third base from Tuesday's game in a glass frame. Chipper Jones got the respect he deserved and I got goosebumps as the Yankees fans gave him a standing ovation. One of my favorite sports moments ever.
The series finale was a day game in sweltering heat. The heat certainly had an effect on both teams, as nine homers were hit. Every ball in the air had a chance of going out with the way the balls were carrying. In the end, the Braves were fortunate enough to hit their homers with men on base and their bullpen eeked out a few tight innings, turning two double plays in back to back innings.
Phil Hughes is bad. He didn't locate his pitches well and after seeing Freddy Garcia pitch the ninth I asked some fans around me why he wasn't in the rotation and they didn't have a good answer. At some point, you go from being a prospect with room for error to a contributor to the team. Hughes should take his 4.94 ERA to the bullpen.
Tommy Hanson and Phil Hughes are at similar points in their careers. Hanson came up as a highly touted prospect and has had three good seasons in a row. However, this is year four, and the promise he showed in the first half last year hasn't shown up yet. His average fastball velocity has dipped from 92.7 in 2010 to 89.8 in 2012. He hasn't been overworked and is only 25, something which suggests to me that he hasn't fully recovered (or might never recover) from the shoulder injury he suffered last year.
Yankee Stadium is a joke of a ballpark dimension wise. Right field is comically close. A-Rod hit a home run today that probably went 320 feet. ESPN Home Run tracker says that 18 homers have already been hit this season at Yankee Stadium that would have only made it out of 0 or 1 other park. Braves players, according to Ken Rosenthal, called the park a joke before the game and they are damn right. Baseball has a huge issue in my opinion with the ridiculous size of some of their stadiums. Yet teams are free to build stadiums with whatever dimensions and contraptions they want without any oversight from the commissioner. David Wright isn't strong enough to hit it out of Citi Field; well go ahead and move in the fences. How can there be a level playing field when there is a god damn hill at Minute Maid Park? Baseball's next commissioner should require every stadium that is built to follow certain rules. Dimensions must be between 325-335 down the lines, 380-400 in the alleys, and 400-405 in dead center. And no more fucking hills or wind tunnels that makes 314 feet down the line really like 300. Teams shouldn't build around their ball parks: the sport should have stricter guidelines about field size and shape. Fields as they stand are a stupid competitive advantage to some teams, exacerbate home field advantage, and take away from the game. I might be the only person standing up on this soapbox, but one day you'll see. You'll all see.

Now that I got that out of my system, Yankees fans don't like to stay all nine innings. By the end of the game it looked like an old Marlins game. I guess winning all those championships in the '30s spoiled the fans. This presented a perfect opportunity to tomahawk chop in Yankee Stadium. The Braves may be fucked now that Brandon Beachy is getting Tommy John surgery, but I'm damn glad I saw them win a series in Yankee Stadium.