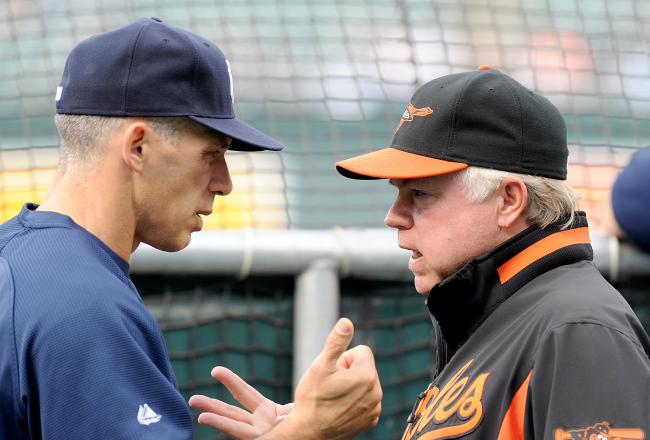 Get ready for a ton of baseball-related coverage. Steve is rolling out a Hall of Fame series, looking at interesting players that might be over or under rated because of a variety of era-specific or narrative-based causes. Jon is telling us what it all means with regards to steroids and how we grapple with baseball's closet skeletons. I'm going to try and say goodbye to Chipper Jones when the Braves' season ends.
For now, we are going to set you guys straight on what to expect for the next month of crazy baseball.
First, let's step back and see how all of our preseason predictions fared.
Sean
: I got the Rangers wrong, Tigers right, and Yankees right. The Angels and Rays picks for wild cards fell just short because no one in their right mind would ever have thought the Athletics and Orioles would make the postseason.
In the NL, I got the Giants right but wrongly picked the Brewers and Phillies. I nailed the Wild Card matchup of Braves/Cardinals.
Overall: Playoff teams correct: 6, Divisions: 3, and Wild Cards: 2
Jon:
Rangers, Tigers, Yankees is pretty standard. Angels and Red Sox look funny in retrospect because the Red Sox cleanup hitter is Ryan Lavaranaway.
In the NL, Jon picked the Dbacks, Brewers, and Braves. His Wild Cards were the Phillies and Cardinals.
Overall: Playoff teams correct: 5, Divisions 2, Wildcards 1
Steve:
Angels, Tigers, Yankees: again, pretty standard. The Rangers and Red Sox for Wild Card looks good...oh wait Bobby V got fired and the whole team got traded or hurt? Never mind, sorry I meant to say that was a horrible pick.
In the NL, our EIC picked Dbacks, Brewers (Jon probably brainwashed us in April), and Phillies. Wild Cards were Giants and Braves.
Overall: Playoff teams correct 5, Divisions 2, Wild Cards 2
So obviously Sean is the voice of authority going forward.
Braves v. Cardinals (Play-in game)
Sean:
I'm terrified of the Cardinals, especially after they caught the Braves last year. Their lineup is deep, their bullpen can strike guys out, and they can hit for power. Their right-handed-heavy lineup will mitigate the effectiveness of Medlen's changeup and the Braves are just too streaky offensively for me to trust them. (Good reverse jinx huh?).
Braves in a rout.
Jon:
I got a fever, and the only prescription is more Kris Medlen.
Braves
win easy. Can I just take this moment to say that I hate this play-in game? As last year and really any year can prove, even seven games are not enough to get over the randomness in baseball. To call the team that loses this game a "playoff" team is a joke, in my mind. But never forget, THERE'S ONLY ONE OCTOBER.
Steve:
I feel stupid trying to predict the outcome of one game. It's tempting to look at the starting pitching matchups because starting pitchers have the biggest impact on any game. The starting pitching matchup in this game will be Lohse vs. Medlen. Medlen has been better than Lohse this year as a starter, but in the context of a single game, they're about even. If these guys matched up 10 times, the Braves would probably win 6-7 of the games; not an overwhelming advantage. The Braves win if they get an early lead, but I can't say that I think that will happen. The Cardinals' lineup is too deep. I'm going with the
Birds
.
Reds v. Giants:
Sean:
The Giants are exactly the kind of team that seems to do better in a short playoff series. They have enough streaky hitters that someone like Cody Ross in 2010 or Marco Scutaro in 2012 will carry their offense, and their pitching always shows up. The Reds have a shutdown bullpen, but I just don't trust Latos or Cueto to get out of the 5th inning. The Reds have a stacked team no question, but Dusty Baker doesn't help, their starting pitching is good because of depth and not its top starters, so the choice is
Giants in 4.
Jon:
Ordinarily, I'd take the team with strong pitching and a star hitting out of his mind, but Joey Votto is just as good as presumptive NL MVP Buster Posey and I trust the Reds' bullpen more. I'm looking forward to Tim Lincecum giving up 8 runs in 3 1/3 innings.
Reds in 5.
Steve:
I'll take Johnny Cueto over anyone on the Giants, even Matt Cain. Cueto is a legitimate Cy Young contender. Even if the Giants have a slight edge overall in starting pitching, it's not enough to overcome the Reds' significant advantage with their lineup. The Giants will pull out either a Cain or a Bumgarner start, but I'm going with
Reds in fo'.
Nationals v. Braves/Cardinals
Sean:
Let's say there are two brothers and the older brother always beats the younger brother. This happens for, oh, say, 14 years in a row. Then little bro moves to a new country, gets a fancy new name and some fancy new toys. All of a sudden little brother beats big brother. Big brother ain't happy. Big brother knows some tricks. Big brother doesn't shut down pitchers in September. Big brother has Chipper Motherfucking Jones. Big Brother is going to Tomahawk all over the Nationals.
Braves in 4.
Jon:
As evidenced by my football picks, I'm terrible at predicting games. Sean, be happy that I'm taking the
Nationals in 5
in the first round. Also, we're not calling this the second round like the NCAA tournament after they added play-in games, right? Cause that's fucking stupid. I think these are pretty even teams, but the Nats will benefit from getting to throw their better pitchers more, which is most of the point of this new wild-card thing.
Steve:
I got the Cardinals winning the play-in game, and they'll face the Nats. The Nats have awesome pitching, even without Strasburg. However, the Nationals' handling of Strasburg's innings limit was soooooooo stupid. It shows that they had absolutely no confidence in this team making the playoffs. Davey Johnson will win Manager of the Year when the reality is that the Nationals were really great this year DESPITE terrible management. You'd think that the Nationals themselves might plan on potentially being good. Nope. So fuck the Nationals for benching their best pitcher, even though they made the PLAYOFFS. Who knows if they'll make the playoffs again in Strasburg's career? This is a division with a lot of high-spending and well-run teams. The Nationals might have just missed their chance because they have this fear for Strasburg's arm, and they're addressing it in a very stupid way. Who knows if limiting his innings this year will do any good? This method is dubious AND incredibly stupid.
Cardinals in a GD sweep 'cause I'm sick of this shit.
NLCS:
Sean:
Braves/Giants is going to be a very close series. The Braves might have a slightly better lineup and bullpen, but not starting pitching. Matt Cain and Madison Bumgarner are two great starters, but I don't think their offense is good enough to score against Kris Medlen (the best pitcher in the league since he started starting) and Tim Hudson. I'm obviously a huge homer and was going to pick the Braves no matter what, so I'll just say that yeah they are going to win because I love them.
Braves in 6.

Jon:
Here's where not having Strasburg comes back to bite the Nats in the ass. Steve pretty much summed up my thoughts on the Nats' handling of this situation, and I think with one more ace they can handle the Reds. As it is, I'm taking the
Reds in 6
. I think they're just a really good team. Cueto and Latos are a solid 1-2, the bullpen is great, and they have some really great hitters.
Steve:
Well, I got the Reds and Cardinals in this series, meaning that for two years in a row, the NLCS will have two teams from the NL Central. Thankfully, this division will be down to 5 teams next year with Houston moving to the AL West, so the good teams will hopefully have fewer awful teams on whom to feast. Both lineups are deep and very good, with each having multiple high-value hitters (Votto, Phillips, Bruce, Holliday, Beltran, Molina). I like the Reds' rotation a bit more, but that's extremely close as well. Chris Carpenter is actually back after missing almost the entire season, and he's made three good starts (though he happened to get losses in all three). For this reason, and because these guys have that experience from last year, I'm gonna have to go with the
Cardinals
to repeat as NL Champs.

Rangers v. Orioles (Play-in game)
Sean:
The Rangers are reeling but momentum is the next day's starting pitcher. This team has too much talent to not hit Joe fucking Saunders. The Orioles are incredible when they get a lead but they don't have enough hitting to beat the Rangers and Yu Darvish. Also, my dislike of Buck Showalter makes it really hard to appreciate the amazing run these guys have been on. His big head (sorry Steve and Jon) looks stupid, he is overrated (twice his teams won World Series right after he left), and his hair color is stupid.
Rangers
.
Jon:
Fuck it, I'm hoping for a little more
Orioles
magic. Please don't forget that this is totally absurd. These teams finished with identical records (both way better than Detroit's but whatever) so this would have happened last year as well. I'm taking the O's because they seem worse but have good vibes or something. Wait, Joe Saunders is pitching for the Orioles? HE'S THE BEST THEY HAVE? I seriously have no idea how this is a playoff team, but congrats. Unfortunately, they'll get rolled by the Yankees in the first round.
Steve:
This is a tough one to pick. I refuse to believe that the Orioles are a good team, but the Rangers are reeling from a monumental skid. They should have locked this division up, but instead they let the Moneyballs moneyball their way to the title. The pitching matchup is going to be Yu Darvish vs. probably Joe Saunders. I don't love either pitcher. But because they've been reeling of late, and despite being at home, I'm picking the Rangers to lose this game to the
Orioles.
Again, trying to predict one baseball game is ridiculous.
Athletics v. Tigers
Sean:
The Tigers are everything that's wrong with the baseball playoffs. This team dragged its ass all over the floor to 88 wins in a division with 3 of the 4 worst teams in the AL. They barely outlasted a mediocre White Sox team and despite this they are probably the favorite in the AL right now. They have an amazing starter who gets to pitch twice in this series, and in Game One because somehow their 88 wins gives them an advantage over two wild card teams with more. The Tigers are going to win, but Oakland isn't going to roll over. Their ability to walk, hit home runs, and close games out is tremendously valuable but I just don't think they have the starting pitching to get it done.
Tigers in 5.
Jon: Tigers in 4.
The A's have a much better record in a much better division, but the Tigers have two great bats, a bunch of good ones, two dynamite starters and a good bullpen. Verlander wasn't great in the playoffs last year, but I fully expect him to shut down the A's twice.
Steve:
The A's are coming off a very hot streak, and they'll be on a high from winning the division. They're bumping up against the best pure pitcher and the best pure hitter in the world right now in the Tigers. But Verlander can't pitch every game, and Miguel Cabrera can't come up more than 1/9th of the time.
However, Verlander can pitch two of the five games, which is great news for the Tigers. In the end, the Tigers can go blow-for-blow with the Athletics in terms of their three top starters, and their lineup contains three of the four best hitters in this series, including the two best by a wide margin. As much as I want to pick the A's, and as much as I'll be rooting for them, I have to pick the
Tigers.
I don't see any way around it. That being said, since my team barely missed the playoffs by a razor-thin 24-game margin, my adopted team for these playoffs will be the Athletics.

Yankees v. Rangers/Orioles
Sean:
The Rangers are better than the Yankees but having to burn Yu Darvish really hurts them. Matt Harrison and Ryan Dempster aren't terrible, but they aren't CC Sabathia and Hiroki Kuroda. Expect a lot of four-hour games and rambling by Tim McCarver (sorry to remind everyone that we have to listen to him for the next month) before the Rangers take care of business.
Rangers in 4.
Jon:
It had to end sometime. Finally, talent wins out and the absurd amount of Yankees talent (and dollars) prevails over the great story of the plucky Orioles. I don't think the Orioles will particularly be missing an extra start from Joe freaking Saunders, but it could help. The
Yankees
are just too good, and they'll win in 4 games.
Steve:
I have the Orioles winning the play-in game, but there just AIN'T NO WAY they're beating the Yankees in a five-game series. This isn't even going to be close. The
Yankees
are back and healthy, and they're on a roll. Let me just say this, though. I think I was the only Red Sox fan to watch the last series of the year against the Yankees, and this was made even clearer to me this past weekend: their ballpark is a joke. If you hit a decent fly ball toward right-center, it's a home run. Last night, Curtis Granderson nubbed a ball off the end of the bat, and it just carried and carried and carried to a home run. No wonder this team hit 245 GD home runs this year. Ten players had 14 or more home runs. Ten. Every hitter that played at least 94 games had at least 14 home runs. Russell fucking Martin had 21 home runs this year. Sean will cry about Nick Green from like 2008 at Fenway against the Braves, but that's nothing compared to the jet stream in right center at Yankee Stadium.
ALCS:
Sean:
In a completely original pick, I'll go with exactly what happened last year: Rangers/Tigers. The Rangers are going to be carried this series by one of their talented but inconsistent hitters -- Cruz, Napoli, and Kinsler -- and they aren't afraid of Verlander. The Rangers have risen to the occasion the past two seasons and they will again. Max Scherzer and Doug Fister are just not up to snuff and Verlander throwing an insane amount of pitches (by 2012 standards at least) limits his effectiveness more and more as the playoffs go on. The Rangers have never had great starting and this year is no different, but it will be just enough to get them to their nasty (and poorly managed) bullpen in the 6th inning.
Rangers in 6.
Jon:
I like the
Tigers in 6.
I'm hoping for Prince Fielder to hit a huge home run off CC Sabathia, thereby shattering the playoff record for all time weight in a pitcher-hitter home run. The previous record probably belonged to David Wells and someone else.
Steve:
I got Tigers vs. Yankees. The Yankees will have home-field advantage, but they will not have the advantage in starting pitching. CC vs. Verlander is a great matchup, and if the Yankees are smart they'll throw Kuroda in Game 2. But CC has sucked in the playoffs recently, and Kuroda/Pettitte vs. Scherzer/Fister doesn't exactly scream Yankees victory to me. Also, as weird as it sounds, and as deep as the Yankees are, the Tigers again have the best two hitters in this series (by a slightly lower margin, as Robinson Cano is just about as good as Fielder). The Yankees live by the home run, and they will die by the home run in this series. The value of guys like Granderson and Teixeira at the plate is tied up almost exclusively in home runs. They won't be able to launch as much as usual against a guys like Verlander, Scherzer and Fister, and once you take away home runs, your second best hitter on the Yankees is probably Nick Swisher,
maybe
Derek Jeter. Plus Joe Girardi sucks, and Ichiro will be batting second for the Yankees. Truly awful.
Tigers in six.
The World Series Classic on FOX
Sean: Braves v. Rangers.
Cowboys-Indians. Time for some historical revenge. The Braves going out in Chipper Jones' final year would be the greatest moment of my sports life. I'm already smiling like an idiot thinking about it. Even if there is only like an 8% chance they win the whole thing, I'll risk my journalistic reputation saying that they will be champions. The Braves are going to need Dan Uggla or Brian McCann to hit close to their career norms and Michael Bourn to stop slumping. If that happens, the Braves can ride their great defense, amazing bullpen, and Chipper Jones-iness to provide the bookend championships to Battle Ax (that's what the fellas in the locker room call Chip).
If there ever was any doubt about who I would pick (fine I know there wasn't), let's go back to our season preview to see what I wrote:

"You're god damn right I'm picking the Braves. I've been semi-objective for long enough. You heard it here first, not only will the Braves win the World Series, they won't lose a single playoff game."
Braves in 4.
Jon:
Reds vs. Tigers. This is an interesting (hypothetical and almost guaranteed not to happen) matchup in that the Reds are pretty much very good across the board, with only one real superstar, while the Tigers have three bona fide superstars, a couple good players and a bunch of crap. I'm keeping the World Series in the NL Central and picking
Reds in 7.
I think this is the year we all realize Joey Votto is the best player in baseball, better than Cabrera, Braun, McCutchen, Posey or anyone else. I'm expecting a Beltran in 2004 level playoffs, which means of course he'll hit .114 and the Reds will lose in the first round.
Steve:
Tigers vs. Cardinals! This is a rematch of the 2006 World Series, in which the Cardinals won in 5 games. These teams are obviously completely different since the 2006 World Series, and these are very different baseball times. The Tigers have the advantage in starting pitching, and once again, they have the two best hitters in the middle of that order.
It's worth noting, however, that the Cardinals' projected lineup features six guys who are average-to-above-average hitters (Jay, Beltran, Holliday, Craig, Freese, Molina), and when they play the Tigers in Detroit, they'll probably DH Matt Carpenter, who is another above-average hitter. The Tigers, on the other hand, though they have the two best hitters, have only four to five hitters who are average or above (Cabrera, Fielder, Jackson, Dirks, and arguably Avila). Their lineup contains Jhonny Peralta, Brennan Boesch, Delmon Young, and Omar Infante. These all seem like good hitters, but at least this season, they ain't so great. How did the Cardinals lose Pujols and still have such a good lineup?
All that said, starting pitching is going to be huge in this series. Both teams can hit, but the Tigers have that one-two punch that can be so valuable in a playoff series. I'm going with
Detroit
to be our World Champion for 2012. Maybe it's because they remind me of the Red Sox World Series teams. They have their Ramirez and Ortiz in the lineup, along with a couple of Pedroias and Variteks, and their Pedros, Becketts, and Schillings. They're built to win in the playoffs, baby. Tigers in, what the hell, 7.